Disclaimer—This article surveys a great deal of material, and there will be many topics I simply am not be able to cover in it. Apologies in advance if I miss your favorite vamp…you can rebut me on the discussion boards.

Also, apologies for taking so long to update. This is the next to last part.
From Lord Ruthven to Mick St. John: 200 Years of Vampires

PART FOUR
Rise of the Heroic Vampire
In 1967, the first major sympathetic vampire emerged into the daylight of an afternoon soap opera.
Dark Shadows, a daytime serial heavily influenced by the currently popular gothic romances (such as those produced by Victoria Holt), in an attempt to boost its sagging ratings, introduced the character of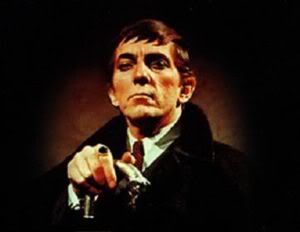 Barnabas Collins, an aristocratic 200-year-old New Englander who quickly became the major star of the show and caused it to become a hit, especially with teenage females, who swooned over the dark melancholic good looks of actor Jonathan Frid. In addition to the series, Dark Shadows spawned a movie, and a host of tie-in novels.
The stage was set for the entrance in the 1970s of two of the most durable and widely read vampire series in the history of the genre: Anne Rice's Vampire Chronicles and Chelsea Quinn Yarbro's St. Germain series. The contemporary vampire had arrived.
And just how were these two vampires (and their associates) different from the fanged bloodsuckers of the past?
Anne Rice broke new ground in several ways with Interview with the Vampire in 1976. This was the first mainstream success of a vampire novel for a female author. Although vampires had long held a serious attraction for women, the writers for the most part had been men. Since the publication of Interview, the most successful vampire writers, including Rice, Yarbro, Laurell Hamilton, P.N. Elrod, among others, have been women.
Louis de Pont du Lac, the narrator of Interview, was startling in several ways: he was American, if an exotic denizen of the Louisiana bayou country near New Orleans, and he was a sympathetic character. His lush descriptions of the sensual ecstasy of becoming a vampire brought a new dimension to the vampire novel.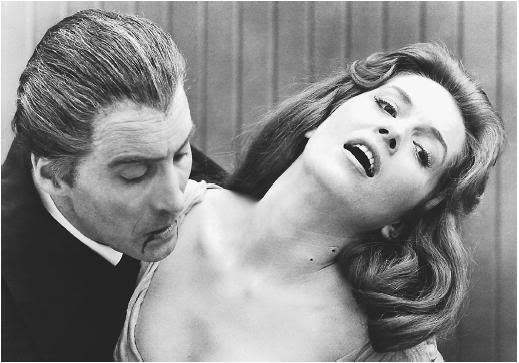 We had seen for some time the victims of Dracula and other vampires swoon orgasmically on screen as the fangs entered their throats, but written descriptions had been external, observing the process and not living it. This novel also saw the beginnings of the development of Rice's concepts of vampire community, especially in the passages relating to Louis' and the child vampire Claudia's discovery of a Paris coven, a concept that would be developed much further in her future novels.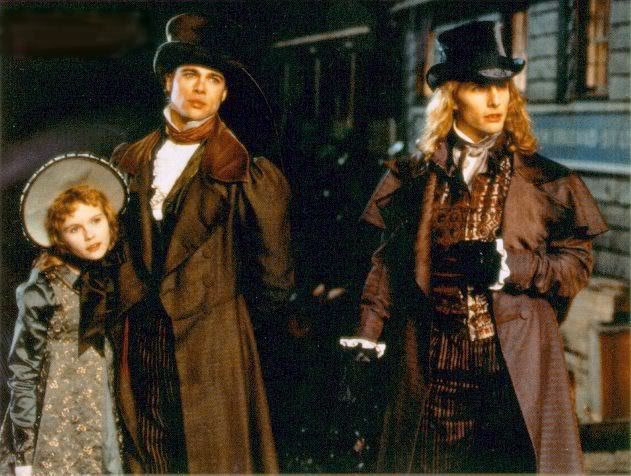 Rice's vampires, which have grown into a fairly numerous tribe over the course of the past thirty years, are a beautiful, androgynous lot, predominantly male, and far more interested in each other than in the surrounding world.
Claudia, the vampire woman trapped in a child's body, is another of Rice's innovations on the theme. At first, she forms the child in a parodic nuclear family with Louis and Lestat (a theme which is capitalized on in Neil Jordan's 1994 film version), but her gradual mental development into a sophisticated predator horrifically appearing to her victims as a beautiful little girl is perhaps the most chilling aspect of the entire novel.
Interview contrasts nicely with Stephen King's very traditional vampire novel published the previous year, Salem's Lot.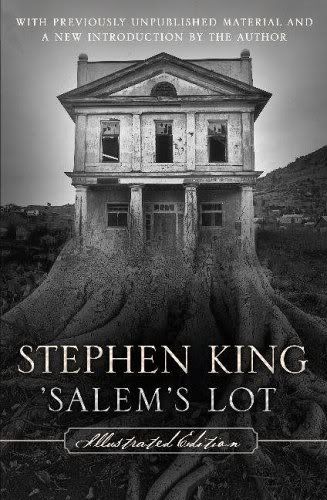 King essentially transplants Dracula, in the form of Kurt Barlow, to a small town in Maine. Barlow's vampirism is highly contagious, with everyone bitten turning quickly into a vampire, and very soon the town is hip-deep in very plebeian vampires.
In 1979, Hotel Transylvania introduced the world to the most urbane, gentle vampire it had yet seen. The Comte St. Germain, based faithfully upon the records of a genuine 18th century charlatan and alchemist, who takes sustenance as much from physical intimacy as from the small amount of blood he requires. Throughout the series, which has grown to over 22 books, with another due in December 2009, as well as a handful of associated books, Yarbro has explored the 4000 year life of her vampire hero. Most often he is cast as an observer, the ultimate outsider in every culture, who exemplifies civilized behavior and tender concern for his various lovers throughout the ages. What horror is found in these novels lies not with the vampires, but with the inhumanity of men to each other, and especially to women. For example, in Tempting Fate (1982),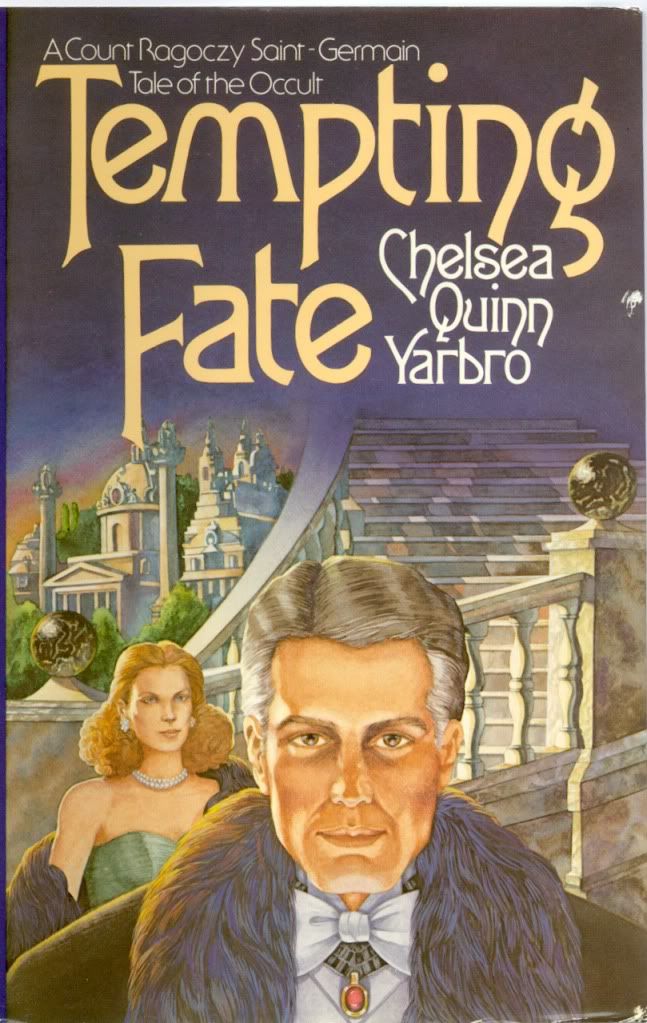 the monsters are not vampires, they are the brutish Nazis who wantonly destroy Laisha, St. Germain's foster daughter. His revenge for this atrocity is a terrible thing, to be sure, but few could argue that it is unjustified.
While the first vampire based on an historical figure is, without a doubt, the venerable Dracula, whose ties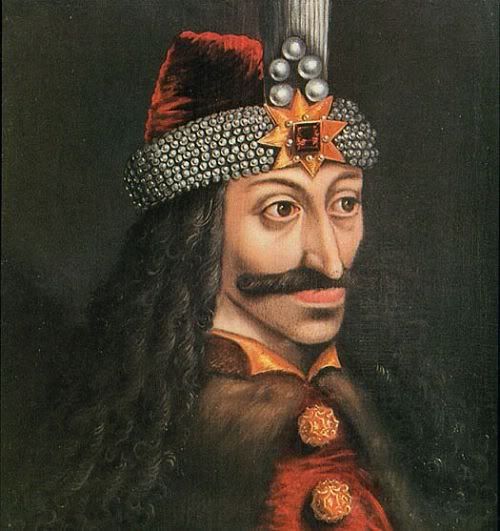 to the historical, blood-soaked Wallachian prince Vlad Tepes are at this point pretty much unquestioned,
Yarbro succeeded in finding a eminently suitable subject with St. Germain, whose historically documented presence in 18th century France included claims of great longevity, a mystery-shrouded origin, and of spectacular alchemical successes. Part of the success of St. Germain comes from the fact that Yarbro takes her character through millennia of well-researched and well-evoked historical settings.
St. Germain became the foremost in a veritable brigade of historical figures turning up as vampires throughout the 80s and 90s. For a few examples, Tom Holland produced books starting with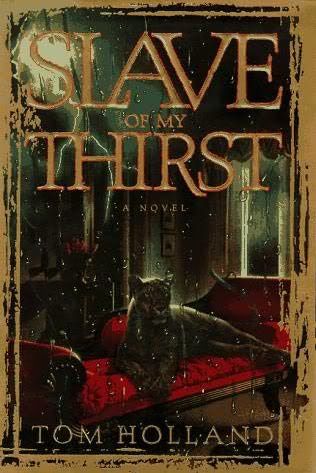 Lord of the Dead (1996) and the sequel Slave of My Thirst (1997), chronicling the adventures of Lord Byron, turned into a, well, Byronic vampire by an ancient, evil Turk. Michael Romkey, in his 1990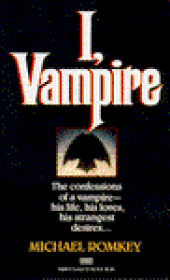 I, Vampire and its sequels presents Mozart, Jack the Ripper, and Tatiana Romanov as vampires.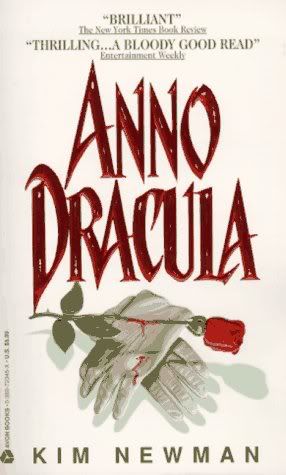 Kim Newman's Anno Dracula (1992) and its sequels , posits that Dracula did not die at the end of Stoker's novel, and went on to seduce, marry and convert to vampirism Queen Victoria, setting up a society in which it becomes stylish to become a vampire, or at least associate with them. In the process, he drags in virtually every fictional vampire known to man, as well as most of the luminaries of the late Victorian era. A good bit of Anno Dracula reads like an elaborate in-joke, as one tries to identify every passing reference. (St. Germain and Lestat do come in for unflattering mentions, as well as Carmilla and dozens of others.) And these are by no means the only ones in this vein.
Depending on who you read, vampirism is a metaphor for any of a number of things, and there will doubtless be more to come. Some of the more standard themes that vampirism can indicate are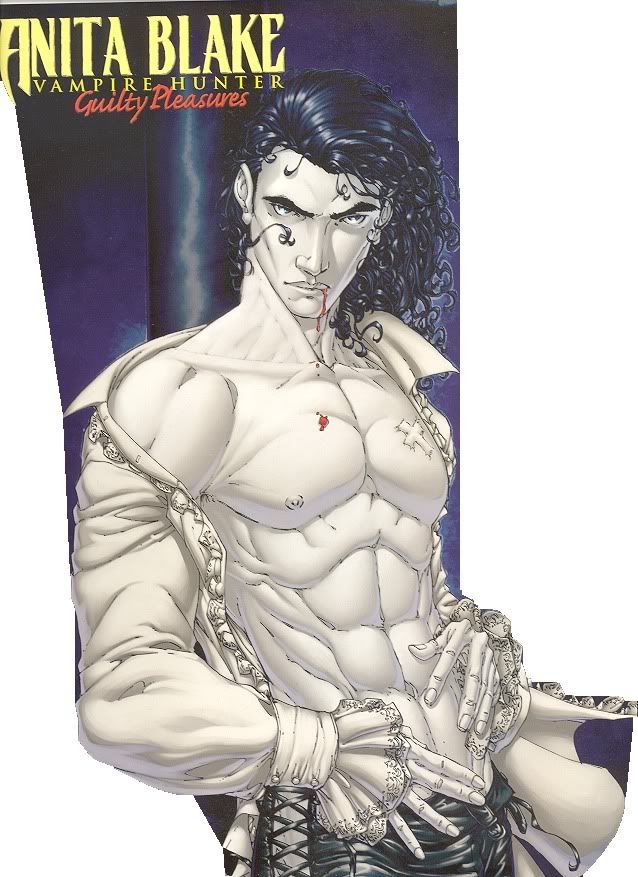 --Forbidden sexuality. Dracula has long been interpreted as a novel which speaks in coded language about areas of sexuality rigidly repressed in the late Victorian environment that produced it. More recently, Laurell Hamilton, in her phenomenally successful Anita Blake series, has used vampires and other preternatural creatures as a signifier of the exotic attraction of marginalized minorities. One of the ongoing themes of the series is the seductive power of the vampire, and later books in the series have included massive amounts of violent, steamy sex scenes, alternated with violence and descriptions of sexy vampire fashion, in some cases at the expense of the plot.
--homosexuality. Starting with Rice in the 1970s, vampires have been used as a metaphor, or even an outright description, of homosexuality. One of the traditional aspects of vampirism is that vampires reproduce through seduction and conversion, as opposed to biological procreation, and this, for good or ill, has been seen as bearing certain similarities to homosexuality. The epicene, androgynous vampires seen in much recent film and fiction, who represent a lifestyle far removed from the mundane world, make a reasonable facsimile of the stereotypic gay subculture.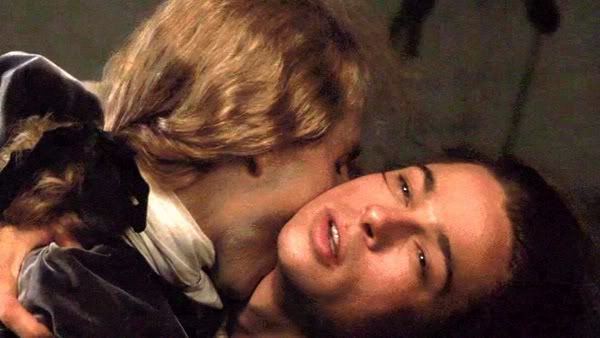 --AIDS or other disease. Vampirism in Stephen King's Salem's Lot, for example, operates much as a contagious disease, and compares easily to the killer virus in King's The Stand. The AIDS connection is also fairly simple, with vampirism in many works being a blood-bourne illness transmitted by sexual contact, assuming the vampire's bite to be an expression of his or her sexuality.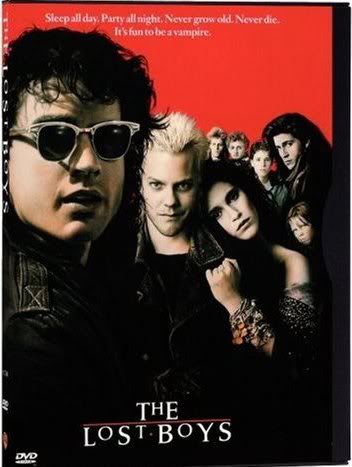 --drug addiction/ alcoholism. In The Lost Boys (1987), the main character falls in with evil companions, who provide him with mind-altering substances. The teenager subsequently becomes sullen and withdraws from his family, even as he wages an internal battle against the seductive forces that seek to draw him forever into the darkness. In short, he acts like a kid on drugs. The reluctant vampire/police detective hero of the tv series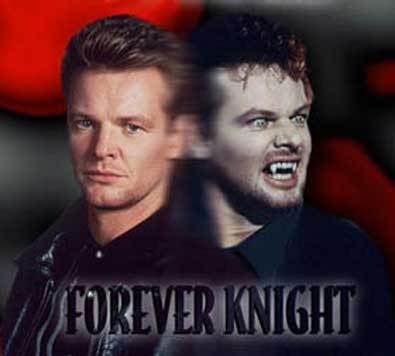 Forever Knight (1992-96), Nick Knight, displays more alcoholic characteristics, drinking his blood from refrigerated bottles (occasionally bingeing on it with hangover-like results), and forever seeking a cure that will bring him back to normal life. He, too, has evil companions that encourage him to embrace his vampirism, and a medical examiner/ would-be girlfriend who encourages him to persist in his struggle to end his addiction to blood.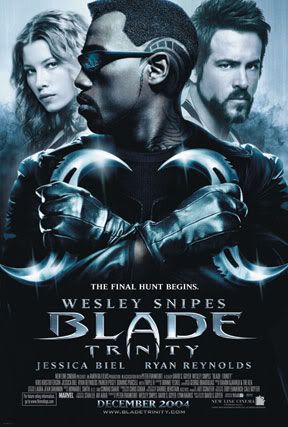 --corporate greed. The vampires in the Blade movies, the short-lived television series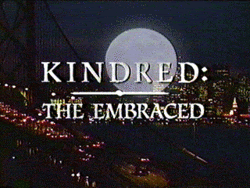 Kindred: the Embraced (1996), and the more recent
Underworld operate within a rigidly structured, hierarchical, seemingly corporate world, with complex interrelationships and goals. The lone predator, simply out for blood and kicks, has vanished in these worlds within a defined power structure. It seems like this would take all the fun out of vampirism, reducing it to yet another bloody climb up the corporate ladder.
There is a not-uncommon disconnect between current vampire film and fiction. The vampire movie tends to focus more on action and violence, and the vampire hunter (like Blade or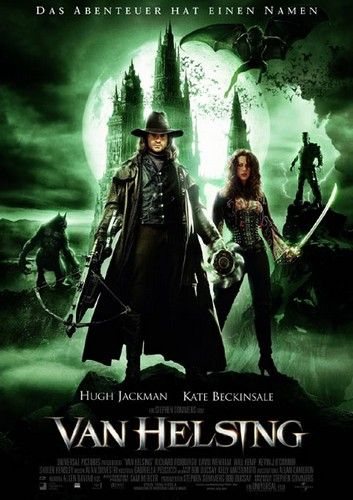 Hugh Jackman's Van Helsing) takes a central role. Destruction of the vampires is the paramount goal. In television,
Buffy the Vampire Slayer exemplifies this,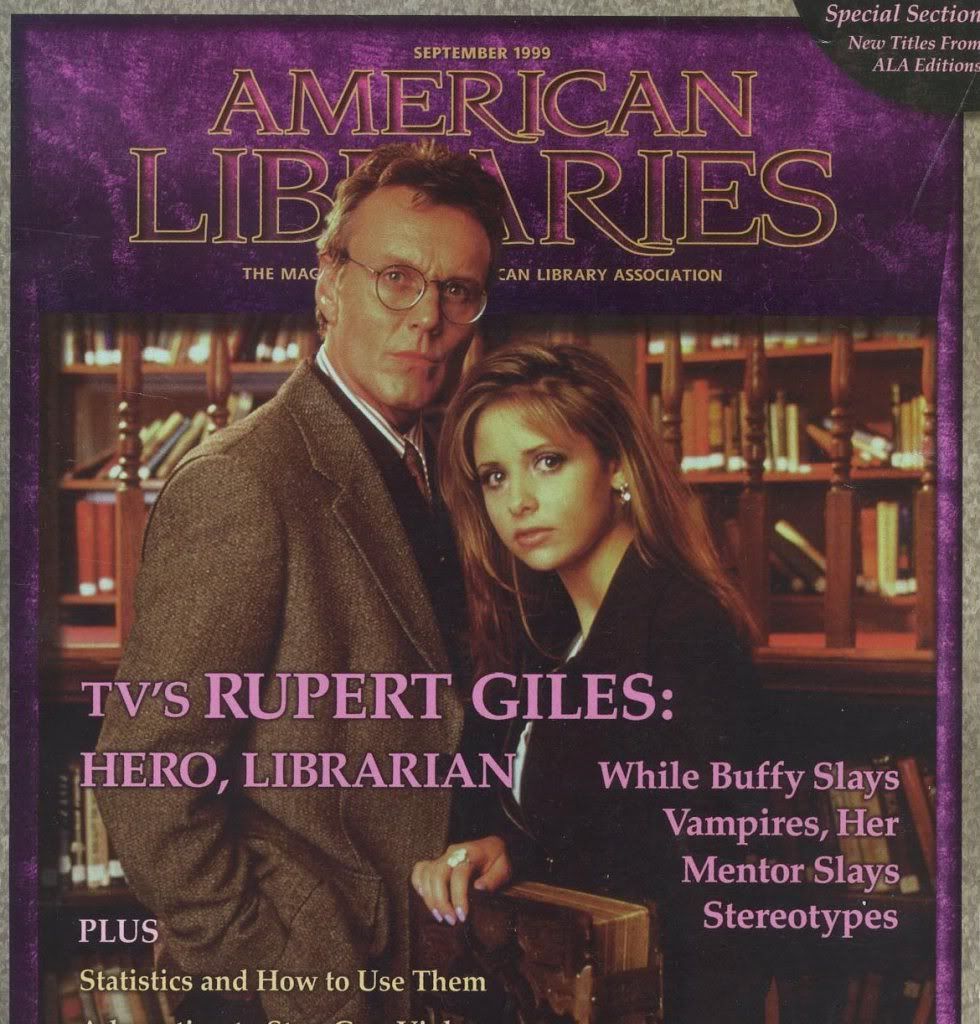 (okay, I had to throw in this picture, since Rupert Giles is a hero to vampfan librarians everywhere) although that series and its spinoff, Angel, also presented a sympathetic,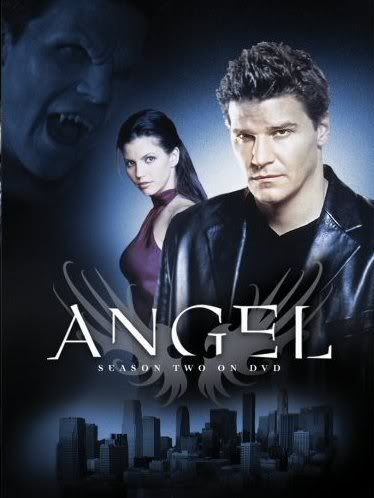 heroic vampire in amongst the legions of demons and evil vampires dispatched by the title heroine.
More recent films, such as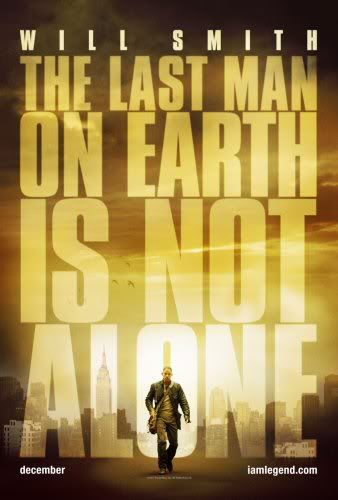 I am Legend and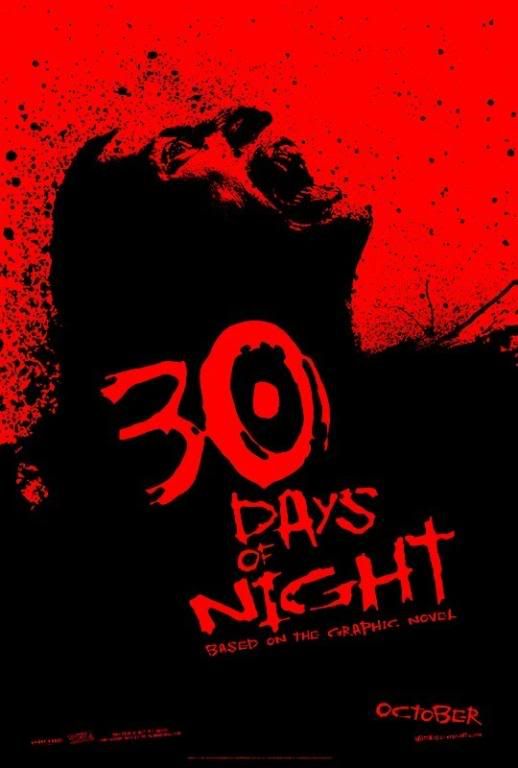 30 Days of Night present vamps more like the folkloric revenants than the suave, cultured vamps of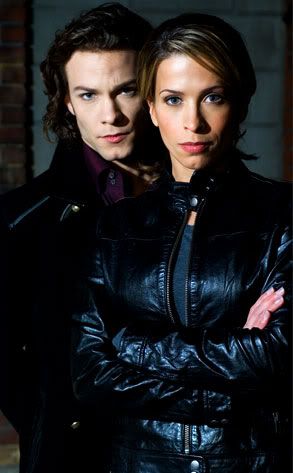 Blood Ties,
Moonlight, or a host of romance novels.
End of Part Four

Next: Contemporary Vampires, continued